Telangana Waterfalls – Waterfall – the name itself indicates that water falls from high end to low end. Its natural effect & beautiful scenario experience fascinates everyone to feel the natural beauty.
In this article we get to know the Top Waterfalls in Telangana State, you know what few among was known by everyone. But on the other side there are so many unknown waterfalls in Telangana, in this article TelanganaWEB will reveal the most famous waterfalls in Telangana.
జలపాతం – మన ప్రకృతి మనకు ఇచ్చిన ఒక అందమైన ప్రపంచం. ఎతైన ప్రదేశం నుండి జలజల పారే నీళ్లు మరియు ఆ నీళ్ల శబ్దం ఎవరికీ మాత్రం నచ్చవు cheppandi, ప్రతిఒక్కరికి నచ్చుతాయి కదా. అయితే ముఖ్యంగా వర్షాకాలంలో వీటి ప్రవాహం మరియు అందాలు మరింత పెరుగుతాయి.
Most Famous Waterfalls in Telangana
అయితే తెలంగాణ రాష్ట్రంలో మనకు తెలిసిన చాలా జలపాతాలు ఉన్నాయి, కానీ ప్రకృతి సృష్టించిన , మనకు ఇంతవరకు తెలియాలి జలపాతాలు చాల ఉన్నాయి. ఒక్కోదానికి ఒక్కో చరిత్ర ఉంది. కానీ వర్షాకాలం లో వాటి గురించి తెల్సుకోవాలి ఎవరికి ఉండదు చెప్పండి.
Telangana waterfalls
ఇప్పుడు మనం తెలంగాణాలో గల ప్రసిద్ధి చెందిన మరియు ఎవరికి తెలియనునటువంటి అందమైన జలపాతాల గురించి తెలుసుకుందాం.
Top 10 Telangana Waterfalls – Must Visit in Monsoon Season
Kuntala Waterfalls
Mallela Theertham Waterfall
Pochera Waterfalls
Yellama Kunta Waterfalls
Savathula Gundem Waterfalls
Gayathri Waterfalls
Pedda Gundem Waterfalls
Best Waterfalls In Telangana in Telugu – Must Visit in 2022
బొగత జలపాతం
మిట్ట జలపాతం
సవతుల జలపాతం
పెద్ద గుండెం జలపాతం
ఎల్లమ్మ కుంట జలపాతం
పొచ్చెర జలపాతం
మల్లెల తీర్థం జలపాతం
సింగసముద్రం జలపాతం
#1 Kuntala Waterfalls
Kuntala waterfalls are one of the highest waterfalls in the state of Telangana with the height of 200 feet. It has located in Adilabad district. There is a temple of lord shiva situated near the waterfalls known as Someshwara Swamy temple. At the time of Mahashivratri, many devotees appear here to pray to lord shiva.
Kuntala waterfalls is situated in the middle of the Sahyadri mountain range near Neredikonda village in Adilabad District. It is formed by Kadam river, and it has cascaded down through two steps from a stone platform. It is well-known for one day outings and excellent weekend getaway from Hyderabad city.
కుంతలా జలపాతం తెలంగాణ యొక్క అతి పెద్ద జలపాతం. ఈ జలపాతం 50meterస్ ఎత్తుతో సుందరంగా కనిపిస్తుంది. అక్కడికి వచ్చిన పర్యాటకులను ఆకట్టుకుంటుంది. ఇది ఆదిలాబాద్ జిల్లా లో కడం నది పైన ఉంది.
కుంట అనే పదాన్ని తెలుగు లో చెరువు అంటారు. ఆ పేరు పైన ఈ జలపాతానికి ఆ పేరు వచ్చింది. మరియు ఈ ఆదిలాబాద్ జిల్లా లో ఈ జలపాతానికి దగ్గరలో గాయత్రీ జలపాతం కూడా ఉంది.
ఎవరైతే ఈ ప్రకృతి అందాన్ని ఆస్వాదించాలని అనుకుంటున్నారో వాళ్ళకి కుంతలా జలపాతం ఒక మధుర అనుభూతుని ఇస్తుంది.
How to Reach Kuntala Waterfalls
Directions and Distance for Kuntala waterfall
Kuntala waterfalls situated around 261 km from state's capital Hyderabad. It holds almost a scenic beauty of nature in the district of Adilabad in Telangana. Kuntala falls located 58km from Adilabad and 43km from Nirmal and 12km from Neredikonda mandal & village.
A motorable road has been constructed till the entry point of waterfalls from where you've to trek down about 400 steps to reach the footsteps of waterfalls.
Best time to Visit for Kuntala waterfalls in Telangana
During the Great Monsoon (July – Sep, Oct, November) and also during rains
Google Maps direction for Kuntala waterfalls
#2 Bogatha Waterfalls
Bogatha waterfalls located in District of Mulugu in Telangana. It is also named as Niagara of Telangana State, reason behind is its stuporous size & beautiful surroundings. It is 2nd biggest waterfall in the state of Telangana after Kuntala waterfalls.
Bogatha waterfalls is one of the well-known waterfalls in nearby cities and villages. And also a temple named Bogateswara Swamy is situated near to the waterfall.
How to Reach Bogatha Waterfalls
Directions & Distance towards Bogatha Waterfalls
Where it is located – Bogatha waterfalls is located on the Cherukupally stream, Mandal – Wazeedu, District – Mulugu. It is located 90km from Mulugu. 140km from Warangal. 329km away from Hyderabad.
(Newly built Eturnagaram bridge on NH 202 reduced the travelling distance from Hyderabad approximately around 329km from 440km)
Google Maps direction to Bogatha waterfalls
Best Time to Visit (Telangana Waterfalls)
Water flows throughout the year but best time to visit between June and November.
Places to visit while you one the way to & after Bogatha Waterfalls
Thousand Pillar Temple
Warangal Fort
Pakhral Lake
Eturnagaram wildlife sanctuary
Kakatiya Rock Garden.
Telangana Nayagara Jalapatham is gives an amazing experience for Tourists across the World.
#3 Bheemuni Paadam Waterfalls
Bheemuni Paadam waterfalls is located in Mahabubabad District, the state of Telangana. Actual village name is Seethanagaram.
Bheemuni Paadam waterfalls is located 55km away from Warangal bus station, 10km from Gudur Bus station, and 200km from the state capital Hyderabad. It was situated in thick dense forest, everybody should take required precautions while visiting this Bheemuni Paadam waterfalls. The name of waterfall is referred to as Bheemuni Paadam i.e. means Bheema's Step.
Google Maps Direction for Bheemuni Paadam Waterfalls
The best time to visit Bheemuni Paadam waterfalls is the Monsoon Season. Vast no.of tourists plan to visit Bheemuni Paadam waterfall in weekends and holidays.

Why the name Bheemuni Paadam Waterfalls?
యాదవ అనే రాజు ఈ ప్రాంతంలో నివసించేవాడు. అతనికి ఇద్దరు భార్యలు . మొదటి భార్య కి ఒక కూతురు ఉంది. అయితే రెండవ భార్య మాటలు విని మొదటి భార్యను మరియు ఆమె యొక్క బిడ్డను చంపాలి అనుకుంటాడు. దాని కోసం అతను ఈ ప్రాంతంలో కొండా పైన కొర్రలతో చిన్న నివాసస్థలాన్ని నిర్మిస్తాడు. అయితే ప్రేమగా నటించి వాళ్ళను అందులో ఉంచి వాళ్ళు నిద్రిస్తున్న సమయంలో దానికి నిప్పు పెట్టాడు. అయితే అప్పుడే అటువైపుగా వచినటువంటి పాండవుల యోధుడు భీమసేనుడు అక్కడికి రావడం జరిగింది. భీమసేనుడు ఆ తల్లి మరియు కూతురు యొక్క ప్రాణాలను కాపాడానికి తన యొక్క పాదాన్ని కింద మోపి అక్కడికి నీళ్లు వచ్చేలా చేసాడు. అందుకే అప్పటి నుండి భీముని పాదం జలపాతం అని పేరు వచ్చింది.
#4 Mallela Theertham Waterfalls
Mallela Theertham is one of the famous waterfalls in the great Nallamalla forest. It is located 58 KM from the well-known Srisailam and 173 KM from the state's capital Hyderabad.
From the 150 feet, water directly falls on the rocks in the high dense forest creates a mesmerizing experience for the tourists. The origin of the Mallela Theertham waterfalls lies on the river Krisha in the Nallamalla forest. There are approximately 400 well-constructed steps available to walk down from road point to the waterfall entrance.
How to Reach Mallela Theertham Waterfalls in Telangana?
Mallela Theertham waterfalls are located 173 Km from Hyderabad and 58 km from Srisailam. After moving 50 km from Srisailam, you have taken a right turn at Vatwarlapally village and take eight more km to reach the waterfalls.
Local transport is also available from Vatwarlapally.
Google Maps Direction to Singa Samudram Telangana Waterfalls
Best timings to visit Mallela Theertham waterfalls is between October to February. In summer water levels are not up to the mark; it is better to avoid staying in the summer season.
Timings – Morning 8 AM to Evening 5 PM.
Entrance Ticket Fee – 10 per head, Car Parking 20 rupees.
#5 Pochera Waterfalls
Pochera waterfalls is one of the deepest waterfalls in Telangana, located at a distance of 37 kms Nirmal district town. It is surrounded by picturesque locations and greeny environment. Pochera waterfalls is also called as Plunge Waterfalls (Falls from 20m high with great force – there is caution for tourists, try not dip inside the waterfall). Basically Godavari meets sahayadri mountain, different water sourcs are formed and one of the water sources escape from thier to give supply of Pochera waterfalls.
Granite is formed in the waterfall bed. This strond material holds great force & gravity of waterfalls. Adding spiritual touch to the awesome location is the Narsimha Swamy temple is located near to this waterfalls to attract more tourists in Telangana.
How to Reach Pochera Waterfalls
Telangana Waterfalls i.e. Pochera is located 37 kms from Nirmal district town, and 47 km from Adilabad town.
Direction and Distance for Pochera Waterfalls
Telangana Waterfalls i.e. Pochera is located 37 kms from Nirmal district town, and 47 km from Adilabad town.
Best time to visit for Pochera Waterfalls in Telangana
During Monsoon Season is the best time visit and enjoy the nature of the Pochera waterfalls
Google Maps Direction for Pochera Waterfalls in Telangana
#6 Yellamma Kunta Waterfalls
Mitte, Pittaguda and Yellamna kunta waterfalls are very near each other, so if you plan for one waterfall you may have a chance to visit other waterfalls too.
Yellamma kunta waterfalls is located at Pittaguda village in Adilabad. It was nearly 350km away from state capital Hyderabad.
How to Reach Yellamma Kunta Waterfalls
It has 2km trekking from Pittaguda village, scenery and natural environmental beauty was mesmerizing.
Best Time To Visit For Yellamma Kunta Waterfalls In Telangana
September to December is a very good time to experience the beauty of these waterfalls.
Google Maps Direction For Pochera Waterfalls In Telangana
Suggestion to carry food items because you unable to find sufficient food until you back to nizamabad or kaddam.
#7 Savatula Gundam Waterfalls
Savatula Gundam waterfalls in located in Komaram Bheem district in the indian state of Telangana. It is located 30 km from Komaram bheem and 350 km from Hyderabad.
How to reach Savatula Gundam Waterfalls
It is very easy
#8 Gayatri Waterfalls
Gayatri waterfalls is one of the famous waterfalls in Telangana and it is located in Adilabad district of Telangana. Gayathri waterfalls is one of the very less recognized place to be located in the banks of Kadam river.
How to reach Gayatri Waterfalls
Gayatri waterfalls located 5 km from Tarnam khurd village, 38 km from Nirmal, 19 km from Kuntala waterfalls, 59 km from adilabad city and 270 km from Hyderabad.
It was one of the fascinating waterfalls in Telangana State.
#9 Pedda Gundam Waterfalls
#10 SingaSamudram Waterfalls
Unknown man made waterfalls in Telangana – సింగసముద్రం జలపాతం
Located in Rajanna Sircilla District of Telangana.
Mandal: Gambhiraopet
Actually it was unknown till the honorable IT Minister KTR Tweets about it in 2020 Aug-Sept. The beauty of this waterfalls is amazing. People visiting Singasamudram waterfalls is increasing day to day.
Experience the few glimpses of SingaSamudram waterfalls (Telangana Waterfalls)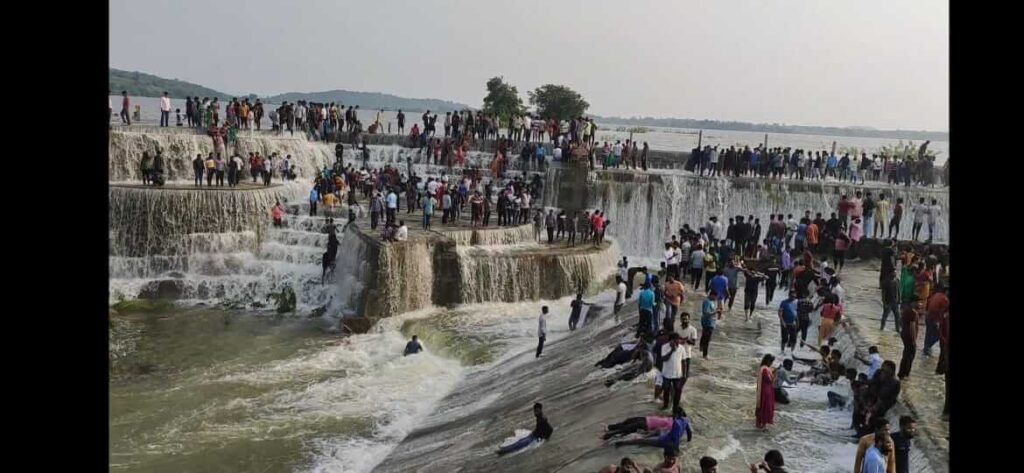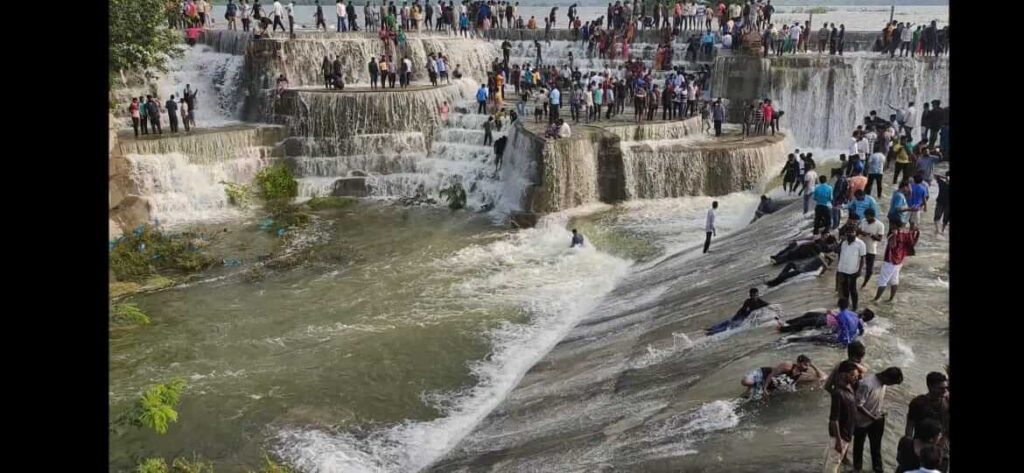 Direction and Distance to Singa samudram Waterfalls
How to Reach SingaSamudram Waterfalls
It has been located 17km from Rajanna Sircilla, and 35+km from Kamareddy.
Google Maps Direction to Singa Samudram Telangana Waterfalls
#Places to visit while you one the way to & after the SingaSamudram Waterfalls
Narmala Dam
Sircilla Bathukamma Ghatt
Sircilla Pedda Cheruvu Katta
Mid manair back water locations