Surrounded by green trees.. Chirping tunes of birds.. High mountains… From the middle of them the Mutyala Dhara waterfalls gushes like milk. It sounds like you just want to see it.. Yes, who doesn't like waterfalls and green trees. This waterfall is located in Telangana.
If you are a TREKKING LOVER, then this would be a PERFECT SPOT to enjoy the nature along with mesmerizing waterfalls

Enjoy the nature folks by TelanganaWEB
Along with Bogatha, Kuntala and Gundala waterfalls, there is another amazing waterfall in Telangana which is very impressive to nature lovers. But not many people know that waterfall is a secret waterfall in Jayashankar Bhupalpally district. It is called by some as Mutyala Dhara Falls, by others as Veerabhadram Falls and by others as Mutyam Dhara Falls.
Two eyes are not enough to see this magnificent waterfall. A bit of adventure is required to see this waterfall. What are the features of this waterfall? How to reach Let's see the things.
చుట్టూ పచ్చని చెట్లు.. పక్షుల కిలకిలారావాలు.. ఎత్తైన పర్వతాలు… వాటి మధ్య నుంచి ముత్యాల ధార జలపాతం పాలవంటి ధారగా ప్రవహిస్తోంది. దీన్ని చూడాలనిపిస్తుంది కదూ.. అవును జలపాతాలు, పచ్చని చెట్లంటే ఎవరికి ఇష్టం ఉండదు. ఈ జలపాతం తెలంగాణలో ఉంది.
ఈ అద్భుతమైన జలపాతాన్ని చూసేందుకు రెండు కళ్లు చాలవు. ఈ జలపాతాన్ని చూడాలంటే కాస్త సాహసం చేయాల్సిందే. ఈ జలపాతం ప్రత్యేకతలు ఏమిటి? ఎలా చేరుకోవాలి అనే విషయాలు చూద్దాం.
Where are the Mutyala Dhara Waterfalls Located?
This is a huge waterfall in the forest area on the border of Telangana and Chhattisgarh states. This waterfall is located in Venkatapuram (K) mandal of Jayashankar Bhupalpally district. Venkatapuram – Bhadrachalam main road is about 8 km from Veerabhadravaram. One can reach this pearl stream waterfall by walking through the jungle. You can see this waterfall even if you cross the streams from Ramachandrapuram.
How To Reach Mutyala Dhara Waterfalls
To reach Muthyam Dhara waterfalls, tourists have to struggle a bit. It should be said that the trekkers go on an adventure. Mutyala Dhara waterfall is about 310 km away from Hyderabad. It will be 200 km away from Khammam.
From the centre of Warangal Urban District via Mulugu, Ethurunagaram Mandal of Jayashankar Bhupalpally District, crossing the bridge between Mullakatta and Poosuru of Vajedu Mandal, i.e. after crossing Eturnagaram, take the right and go to the centre of Venkatapuram Mandal.
From Kothagudem you have to reach Vajedu via Bhadrachalam. From Vajedu, you've to go 10km to reach Veerabhadrapuram village. From this village, the Mutyala Dhara waterfalls located nearly 7 to 8 km, this distance is amazing for trekking lovers who want to explore nature. But there are two ways for tourists to reach the waterfall from Veerabhadrapuram.
Trekking about 8 KMs
Tractors, Bike, Auto's availability is also present over there by nearest village people.
Tourists who cannot walk have to rely on two-wheelers and tractors to reach the falls easily from the sanctuary. You cannot reach the waterfall by tractor. This tractor can only take a certain distance. From there, if we walk for about 2 km, we will reach the waterfall. A wide range of tractors are available to reach the falls. 500-1000 per person is charged to reach the waterfall.
Alternatively, one can reach muthyala dhara waterfalls by trekking on foot from among the trees. If not, you have to do a little adventure to reach it on foot. Only those who think they can walk and are well used to walking should do this. Because if it rains a lot, you will be in knee deep water.. that too you have to walk in the water for an hour in the forest area. Trekking is a must to enjoy that unique feeling.
Trekking lovers will like it a lot. The waterfall can be reached by walking for about 6 km. Who does not come to help after going some distance. Even those who drive tractors carry those who have travelled from the beginning
This muthyala dhara waterfall, which was identified by the locals less than four years ago, is currently attracting tourists. Locals call it Gaddela Sari as the stream of water falls from a great height. In terms of height, the highest waterfalls in the country are Jog Falls in Karnataka and tourists say that it stands opposite the waterfalls in Meghalaya. Some describe it as the third highest waterfall in the country.
Muthyam dhara Tourists flock from rural areas as well as urban areas to see this waterfall. The surrounding areas become crowded especially with the arrival of tourists from Warangal, Khammam, Bhadradri Kothagudem, Hyderabad and other places during the rainy season.
Locals say that if the Telangana Tourism Department can develop Mutyala Dhara waterfall, which is a natural ready-made waterfall in the lush forests, as a tourist area, the number of tourists who come to visit Gaddal Sari waterfall will increase.
Also Read – Top 10 Telangana Waterfalls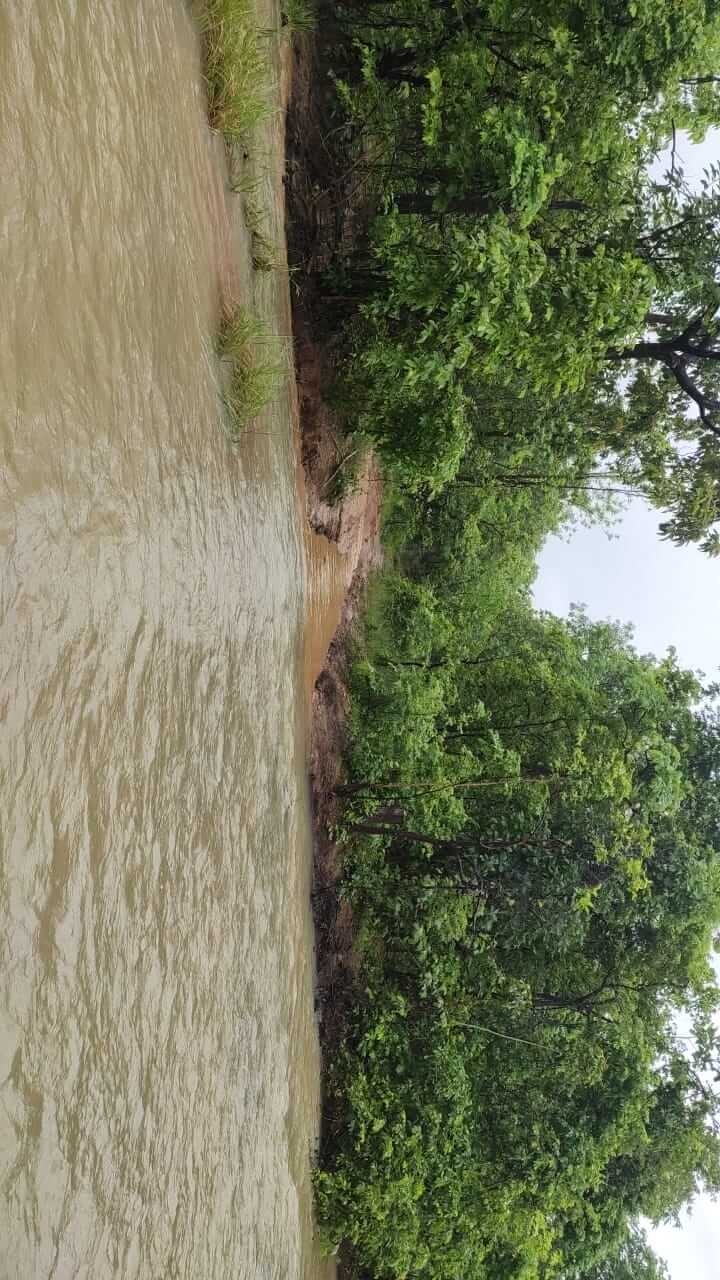 Also Read: