The Revenue department is one of the vital in the department in any government. The main function of the department is to maintain Telangana state land records, viz includes updating and protecting the land records. In addition to the collection of various taxes like NALA, Water Tax and other collection dues to the government. Government of Telangana government established CCLA, Dharani online portals to maintain land records very effectively. So today we are going to learn about
What is Dharani?

What is CCNA?

How can I register Dharani Telangana Government?

How to Check Telangana Land Records Online in Telangana?

ROR 1B & Pahani Details

TS Land Records with survey numbers
What is Dharani Website?
Telangana Government established a new Integrated Land Records Management System named as DHARANI. Dharani provides a platform to registration and land administration services which includes all land-related functions (buying, selling, etc.). It enables to provide efficient land record services viz pahani adangal on a real-time basis. Dharani also provides a visual representation of the land records in Telangana by using Geographic Information System (GIS).
Dharani also provides a visual representation of the land records in Telangana by using Geographic Information System (GIS).
How to Register Telangana Government  Dharani Website?
Telangana Government enabled the registration process for Dharani website online. Using this feature individuals who are living in Telangana may able to access land records, Encumbrance Certificate, TS Pahani adangal, Telangana Pattadar Passbook status, and many more services related to Telangana revenue department. Currently CCLA is the chief authority of  Telangana Records management. Dharani will also hold land records such as pahani adangal, ror 1b etc. in a integrated manner and special feature it include GIS tags. Presently these tags are available only in Vikarabad district and soon it will spread across Telangana. Sample GIS tags images shown below, and it has hold survey numbers printed on maps using Geographical locations.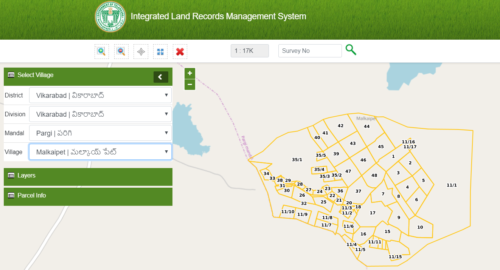 Using GIS tag, any citizen in Telangana may able to find the survey number exact location and size very accurately.
What is CCLA?
The Chief Commissioner of Land Administration (CCLA) is the supreme controlling authority for the revenue department which primarily includes Land surveys, Records, Settlement, and Urban land ceiling wings.
What is Pahani Telangana?
A Pahani is related to land records and contains land information. It is an important certificate issued by the government. Pahani adangal is a legally approved document that belongs to your land. It was issued by Tahsildar (Mandal Revenue Officer). Previous it is available in Telangana maa Bhoomi official and Mee Seva centers. But now it is available on the Telangana Dharani website and official CCLA (Chief commissioner of land administration) official portal. Ts Pahani adangal downloaded using details like Mandal, District, land record survey number, etc.
What is Maa Bhoomi Telangana ?
Maa bhoomi telangana is old land record management system. Which includes land details with old survey numbers in village and municipal towns. It is an online portal of telangana state .
How can I check my land records online in Telangana?
Telangana government have facilitates the land records process in online. Anyone will check land record status using there official website name – CCLA (chief commissioner of land administration) previously maa bhoomi portal.
Step1: Go to official portal CCLA . Click the Know you land status link on the home page of CCLA. Then you will get option Right of Records (RoR) in that click on the know your pahani adangal. After that you will need to enter District, Mandal, land records katta number or survey number to get details of your updated pahani & ror-1b
How to Check Telangana
ROR-1B & TS Dharani Pahani Details online
Steps to Check Land Records Online through CCLA Official Portal
Step1: Visit Official Website of CCLA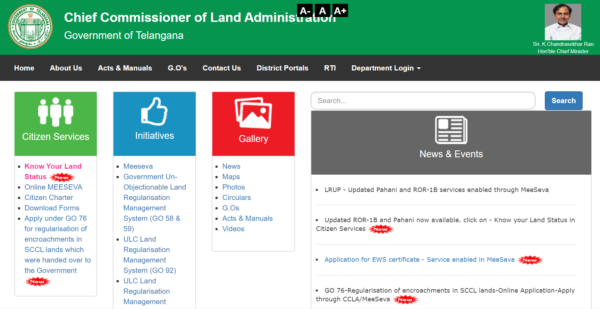 Step2: Click the Know Your Land Status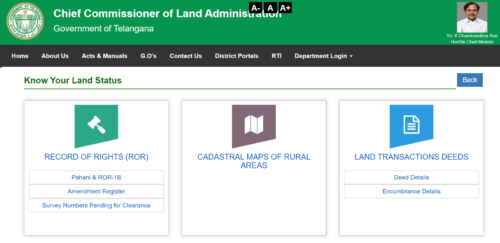 In above image you will find 
Pahani & ROR 1B
Amendment Register
Survey Number for Pending Clearance
Step3: Select the first option to get your Telangana Land Details
Enter the following details to know the Land status in Telangana state.
District
Mandal
Village
Survey Number or Khata Number
Sample Copy of ROR 1b, Telangana Pahani will look like below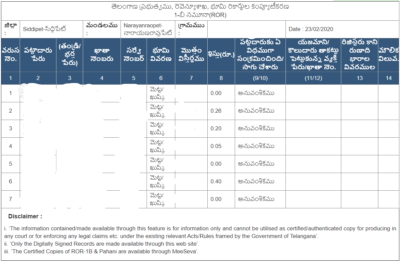 Land Records with survey numbers
Latest procedure will update soon. So get in touch with TelanganaWEB for more interesting and useful news about Telangana state. Thanks for Reading