TS ICET – 2023 (Telangana State Integrated Common Entrance Test) serves as a gateway for entry into M.B.A. and M.C.A. courses offered by all universities in Telangana State, including their affiliated colleges, for the academic year 2023-24. This exam is being administered by Kakatiya University, Warangal on behalf of the Telangana State Council of Higher Education (TSCHE), Hyderabad. Notably, Kakatiya University has conducted the ICET exams successfully in 2005, 2006, 2012, 2013, 2014 and also in TS ICET – 2015, 2016, 2017, 2018, 2019, 2020, 2021, and 2022. We cordially welcome you to the official website of TS ICET – 2023, and we extend our sincere wishes for your success in this exam.
The deadline for registration and online submission of the application form for TS ICET – 2023 without incurring a late fee is ₹ 550/- for SC/ST/Differently-abled candidates and ₹ 750/- for all other candidates.
In this article you'll learn about Telangana ICET 2023 Exam Pattern, Syllabus, and How To Apply using Mobile/Desktop
Table of Contents
TS ICET Syllabus
General Information: 200 Questions – 200 Marks: Time 2.5 Hours (150 mins)
TSICET exams comprises in 3 sections named as
Section A – Analytical Ability – 75 Marks
Section B – Mathematical Ability – 75 Marks
Section C – Communication Ability – 50 Marks
Click here to Download TSICET 2023 full syllabus
How To Apply For TS ICET Exam Online (2023)
In this section, you will learn about online application process
Step 1: Visit the official website of TS ICET Exam – icet.tsche.ac.in
To apply for TS ICET Exam 2023, visit the official website of the Telangana State Council of Higher Education (TSCHE) – icet.tsche.ac.in. The homepage of the website displays various important links, including the link to apply for the TS ICET Exam 2023.
Step 2: Click on the application fee payment.
(note: First you need to pay the application fee , prior to fill the application form and fee once paid can't refunded or transferred)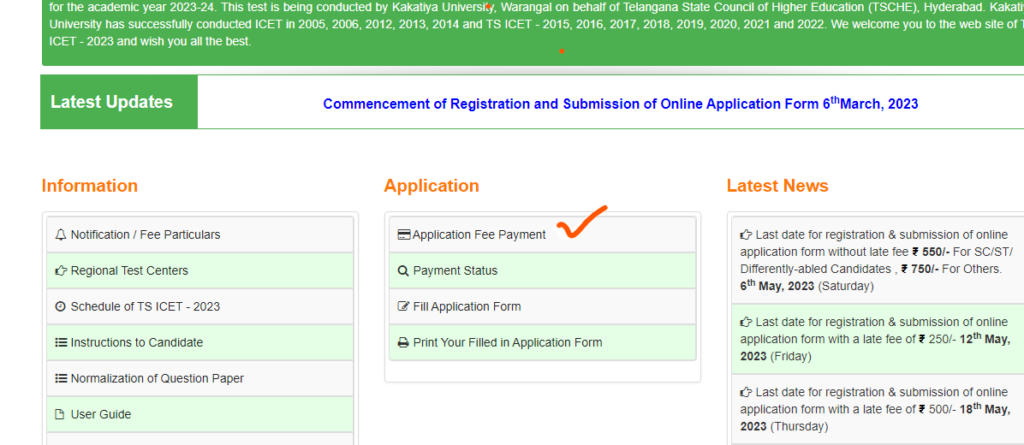 Step 3: Fill all the correct details shown in below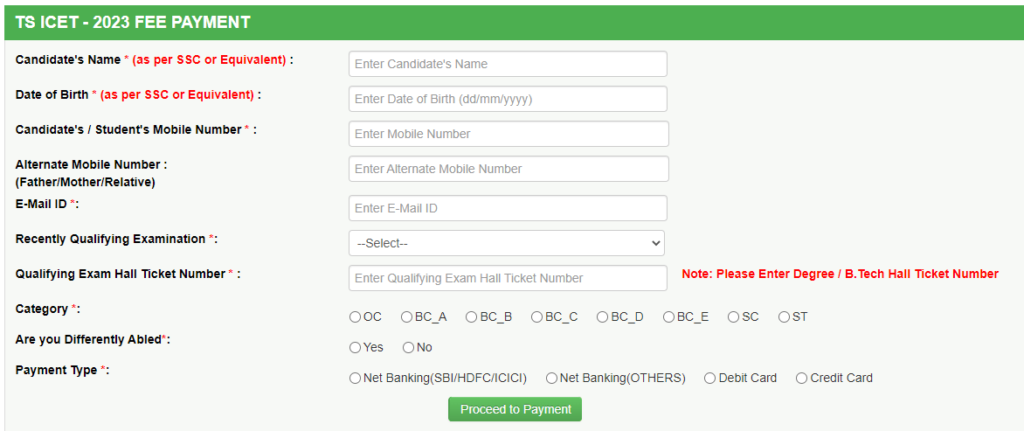 Step 4: Make the payment to generate ICET application reference ID

Step 5: Click on proceed to fill the online application form
(Note: if you not fill the online application form, then please keep your reference id with you for further procedures)
Step 6: Final Application form will be appear in front of your screen
Step 7: Fill the following details
Candidate Details
Address
Local area
Caste Category details
Special Reservation Category (if any*)
Income Details
Candidate Bank Details (not mandatory)
Education Qualification details
Regional Test Centre Preferences
Medium of Test
Help line centre (for further admission processing)
Step 8: Submit the application and download/print TSICET 2023 application form
Instructions to keep in mind before applying TS ICET 2023 Exam online
Read the instructions carefully before filling the application form.
Make sure you have a stable internet connection before starting the application process.
Keep all the necessary documents such as scanned images of photograph and signature, educational certificates, and identity proof ready before starting the application process.
Double-check all the details entered in the application form before submitting it.
Keep a printout of the submitted application form for future reference.
Frequently Asked Questions on Telangana ICET 2023
Can we do MBA without ICET?
It depends on the specific requirements of the MBA program and the institution offering it. Some MBA programs may require applicants to take the ICET exam as part of their admission process, while others may have different requirements or no specific exam requirement at all.
Does 12th Percentage matter in MBA?
The weight given to 12th percentage may vary depending on the institution and their admission criteria for MBA programs. However, in general, a higher 12th percentage can be viewed favorably by admissions committees, as it may indicate a strong academic foundation and potential for success in the program. Nonetheless, many other factors such as work experience, standardized test scores, and interview performance can also play a significant role in the admission decision.
How do I start preparing for MBA?
Research MBA programs and identify the ones that align with your career goals and interests.
Focus on building your knowledge and skills in areas such as business, management, and leadership through courses, books, and other resources.
Gain relevant work experience and consider taking on leadership roles or projects to demonstrate your abilities.
Prepare for standardized tests such as the GMAT or GRE if required by the programs you are interested in.
Network with professionals in the industry and attend MBA fairs and events to learn more about the field and connect with potential mentors or peers.
How many times TS ICET exam is conducted in a year?
The TS ICET exam is conducted once a year by the Kakatiya University, Warangal on behalf of the Telangana State Council of Higher Education (TSCHE) for admission into MBA and MCA programs offered by universities in Telangana state.
Is the TS ICET 2023 registration fee refundable?