An employment card or employment exchange is an organization (maintained by the government). It ensures employment assistance to qualified aspirants based on educational background and experience. In this article, you going to learn about How to Apply for Telangana Employment Card, so let's get started
Want to take free training by government then visit – Telangana BC Study Circle
What are the Benefits of Employment Exchange?
Benefits of Employment Card
Employment assistance will post the jobs on their portals. So job seekers may be able to apply for suitable jobs concerning their qualifications. Job-seeking aspirants may be able to check the status of the job using the online employment portal. URN (unique registration number) provided by employment exchange to apply for various jobs. Whenever the government releases any contract-based vacancies, a list of registered members will share on the basis of employment experience.
Candidates who are registered with the Employment exchange will have employment opportunities as per their merit.
Apart from the employment, a candidate is also eligible for free coaching/training for various government exams conducted by Government & other institutes.
Live employment data will be there with the government.
What is Employment Card?
An employment card is the same as a driver's license for driving especially used to drive legally. Employment exchange is an organization that provides employment assistance on the basis of qualification and experience. Clearly indicates that, the total details of unemployed viz. marks, qualifications, age, DOB, etc, stored at one place to provide job assistance all based on the experience of the card, and qualifications.
Interesting Telangana Tourism Article – Telangana Waterfalls
So today we are going to learn about How to Apply Telangana Employment Card Online?
Is it possible to apply Telangana Employment Card Online?
Yes, it is. The Telangana government launched a new portal named as Telangana Employment portal. Which contains full details about the Telangana employment card. It comprises the application and renewal process of the employment cards.
How to Apply TS Employment Card Online
1. Visit the Telangana State Employment Exchange Official Website for Online Registration.
2. If you are a new member, then you need to create your account.
3. Select the District.
4. Fill the Online application form with your academic details.
How to Apply for Renewal of Telangana Employment Card
Required documents to apply for employment card online
Before applying for an employment card in the online portal, you should prepare some of the important documents and scanned copies, which include a photograph and signature (latest).
SSC Memo Scanned Copy
Inter memo and mark sheet scanned copy
Degree provisional certificate and marks memo.
Postgraduate certificates(if you have)
Scanned photo and signature (latest)
OBC Certificate (optional)
Original community certificate issued by Telangana government.
SSC, Inter, and Degree study certificates scanned copies.
If you are new to the Employment Exchange portal, follow the below steps for the application process.
Step1:
Visit the Official Website for the Telangana employment exchange.
Go to the Login page

Step2:
From there you need to click the LOGIN button mentioned top right in the above image
Step3:
Select option NEW JOB SEEKER LOGIN
after this, you will get to know the popup is about to ask for employment card status.
Check Yes if you offline/online Employment Card, otherwise select the No option.
Step4:
Enter the above-mentioned details and click submit button, then you will get the password to your registered mobile number and email id. Your User ID will be your mobile number.
Step5:
Login into the employment exchange dashboard by using the credentials of the above process.
Step6: Login into the employment exchange dashboard by using the credentials of the above process.
Step7:
Click on the submit
Online Registration for Employment Assistance
Guidelines for candidates (who want to apply for employment card through online mode)
Only Indian citizens are allowed to register at an employment exchange for assistance to get an employment or job. There is no important to verify the employment status of a candidate under any circumstances.
Candidates allowed to apply for employment exchange for their respective states. It means the residential status would definitely belong to that particular state.
No candidate is allowed to register at multiple employment exchanges.
The minimum age to apply employment card is 14 years and the maximum age is not more than 45 years.
For more detailed information please visit- Guidelines for Employment card apply online
Services offered by Employment Exchange in Telangana
Unemployed youth registrations
Updating & Renewal of registrans records as per their eligibility
Collect unemployment statistics in the state
Implementation of Compulsory notification of vacancies (CNV) Act 1959.
Rendering vocational and career counselling/guidance to youth
Conduct various job melas to suitable private jobs to respected candidates
How to Renewal Employment Card in Telangana
The renewal process of the Telangana Employment Card is very easy. Just follow the below steps to renewal your employment card in the Telangana Employment portal
Just click on the renewal option in the Telangana employment dashboard.
In that window, you'll find a request for the renewal of your employment card if your date is due. Once you requested renewal, it will take 2 to 7 days to process your employment card renewal.
If Registration Card not Renewed with in time period,your registration is deemed cancelled.
Employment Department does not provide the Guarantee for employment. Even though your candidature may be sponsored to Employers according to your qualifications, Employment Card. Seniority and other related rules.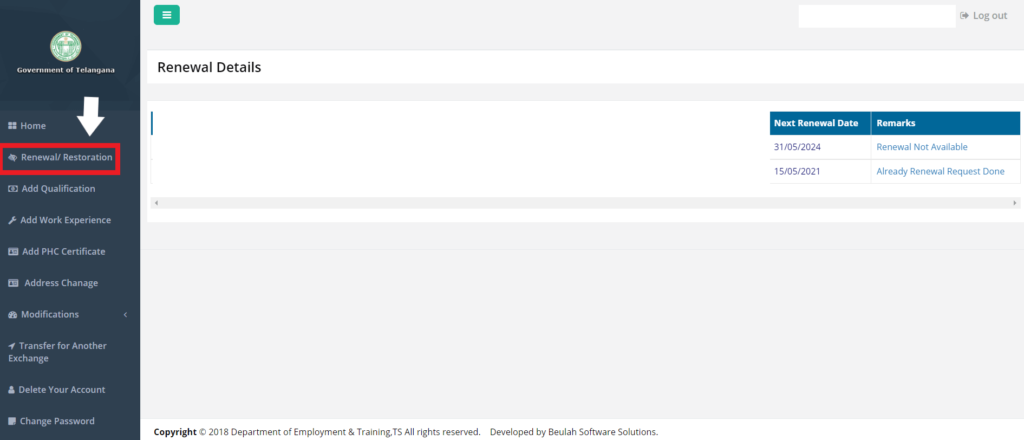 For the live application process please watch the below video in the Telugu language.
How long is a Telangana Employment Card valid?
A Telangana Employment Card is valid for three years from the date of issue. After that, you need to renew it.
Can I use my Telangana Employment Card to apply for jobs outside Telangana?
No, the Telangana Employment Card is only valid within the state of Telangana. To apply for jobs in other states, you need to register with the employment exchange of that state.
Can I renew my Telangana Employment Card?
Yes, you can renew your Telangana Employment Card by submitting the necessary documents and paying the renewal fee at the Employment Exchange office in your district or you can apply using Telangana employment portal by using online method.
How long does it take to get a Telangana Employment Card?
It generally takes 30 days to process your application and issue the Telangana Employment Card.
Is there any fee for applying for a Telangana Employment Card?
No, there is no fee for applying for a Telangana Employment Card.
TS Ration Card Online Application procedure
Learn about TS EPASS Scholarships – How to Apply for Fresh & Renewal
Telangana ePass Online portal