Telangana Dharani Online Web Portal – Telangana government launched a new website for land records named "DHARANI". TS govt will provide new land record passbooks with full security features.
Telangana Dharani – is an online portal for Land Record Management in Telangana State. The fully optimized Dharani portal will be available for all the citizens by the end of 2020. 
Dharani portal will show agriculture and non-agriculture land records separately. It also provides market value of land records for stamp duty price. Dharani will showcase prohibited land survey numbers for transparent process and to curb the illegal land acquisitions.
Telangana Dharani website is providing SLOT BOOKING FOR CITIZENS in their portal. Anyone who will have a mobile phone will register accordingly with respect to the revenue process.
Dharani will also provide Geographical village maps with respect survey numbers across the entire telangana. This will make it easy to identify the land survey numbers.
In this article we will learn about all the new and advanced facilities of Telangana Dharani Portal.
తెలంగాణ ధరణి  ఆన్లైన్  పోర్టల్  – భూముల వివరాలు సర్వే నంబర్ల  వారీగా మరియు మార్కెట్ విలువ , పహాణి, భూముల యొక్క maps సర్వే నంబర్ల వారీగా ఇలా ప్రతి యొక్క వివరాలను మనం ఈ ధరణి పోర్టల్ లో తెలుసుకోవచ్చు.
What is DHARANI
Dharani Land Records Management System
The new Dharani Website is specially designed to manage the land records of Telangana state. It is also called integrated land records system. Presently it is available in entire Telangana, and it is fully activated on Oct 29th, 2020.
రెవిన్యూ డిపార్ట్మెంట్ అనేది ప్రాచీనమైన పరిపాలన విభాగం ఇది గవర్నమెంట్ పరిపాలనలో ప్రధానమైన పాత్రను పోషిస్తుంది. దీని యొక్క ముఖ్య ఉద్దేశం గ్రామాల యొక్క ఒక భూమి ల వివరాలను వాటి పరిరక్షణ కోసం తీసుకునే చర్యలను మరియు వాటి పైన వివిధ రకాలైన పన్నులను దించడం జరుగుతుంది. మరియు ఈ రెవెన్యూ డిపార్ట్మెంట్ వివిధ రకాలైన గవర్నమెంట్ యొక్క పథకాలకు కూడా కేంద్ర బిందువుగా కూడా ఉంటుంది.
Historical Story: Sammakka Sarakka Jatara in Telugu
తెలంగాణ ప్రభుత్వం ప్రతిష్ట ఆత్మకంగా మొదలు పెట్టినటువంటి ముఖ్యమైనటువంటి పథకం తెలంగాణ యొక్క భూముల ప్రక్షాళన. దీని కోసం తెలంగాణ ధరణి అనే ఆన్లైన్ పోర్టల్ ను అందుబాటులోకి తిసుకువచ్చారు.
తెలంగాణ పట్టాదారు పాసుపుస్తకాలు – కొత్త ధరణి Website
ధరణి తెలంగాణ భూమి రికార్డుల పోర్టల్ , తెలంగాణ లో ఉన్న పాత భూమి విక్రయాలు మరియు అమ్మకాలు , వాటికీ జరిగే రిజిస్ట్రేషన్ ప్రాసెస్ అన్ని పూర్తిగా మారిపోయాయి . తెలంగాణ ప్రభుత్వం భూమి రికార్డుల కొసం కొత్త website ను విడుదల చేసింది దాని పేరు ధరణి ల్యాండ్ రికార్డ్స్ . రైతు బంధు పథకం ప్రారంభించడానికి ఉన్న అవరోధాలను అధిగమించడానికి కొత్త పట్టాదార్ passbooks ను అందుబాటులోకి తెచ్చింది. దీనికి సంబంధించిన పూర్తి వివరాలకు కింద ఇవ్వబడిన లింక్ ను క్లిక్ చేసి వెళ్ళండి. మరిన్ని వివరాలకు తెలంగాణవెబ్ ను subscribe చేసుకోండి .
ఈ ధరణి పోర్టల్ నుండి తెలంగాణ యెక్క భూమి వివరాలను ఎక్కడి నుండి aina సులభంగా కోవచ్చు.
The new revamped Dharani portal into advanced Dharani Portal which holds all the revenue details in one single portal.
In this article you will learn about Telangana Dharani Portal with live Examples.
Telangana Dharani Website
Dharani is divided into two categories
Agriculture Land Records
Non-Agriculture Land Records
Presently Agriculture land records only available in Official Portal – Dharani.Telangana.gov.in
Telangana Dharani – Key Features and Services
Land Details
Slot-booking for Citizens
Prohibited land records
How to view market value of Land for Stamp Duty
Encumbrance details
Dharani Land Details in Telangana
How to Use Telangana Dharani Website for Your Land Records?
#Step1 – Go to Official Dharani Portal – https://dharani.telangana.gov.in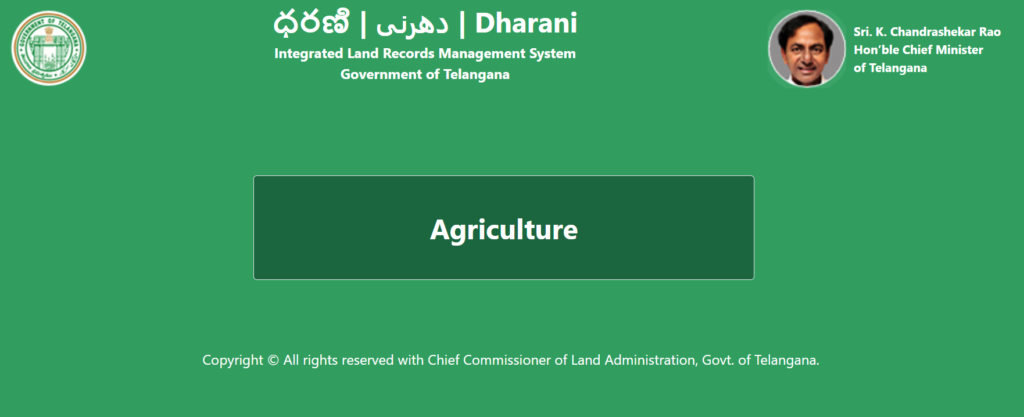 #Step2 – There will be categories shown on the screen – Agriculture & Non-Agriculture
#Step3 – Click Agriculture in Dharani Portal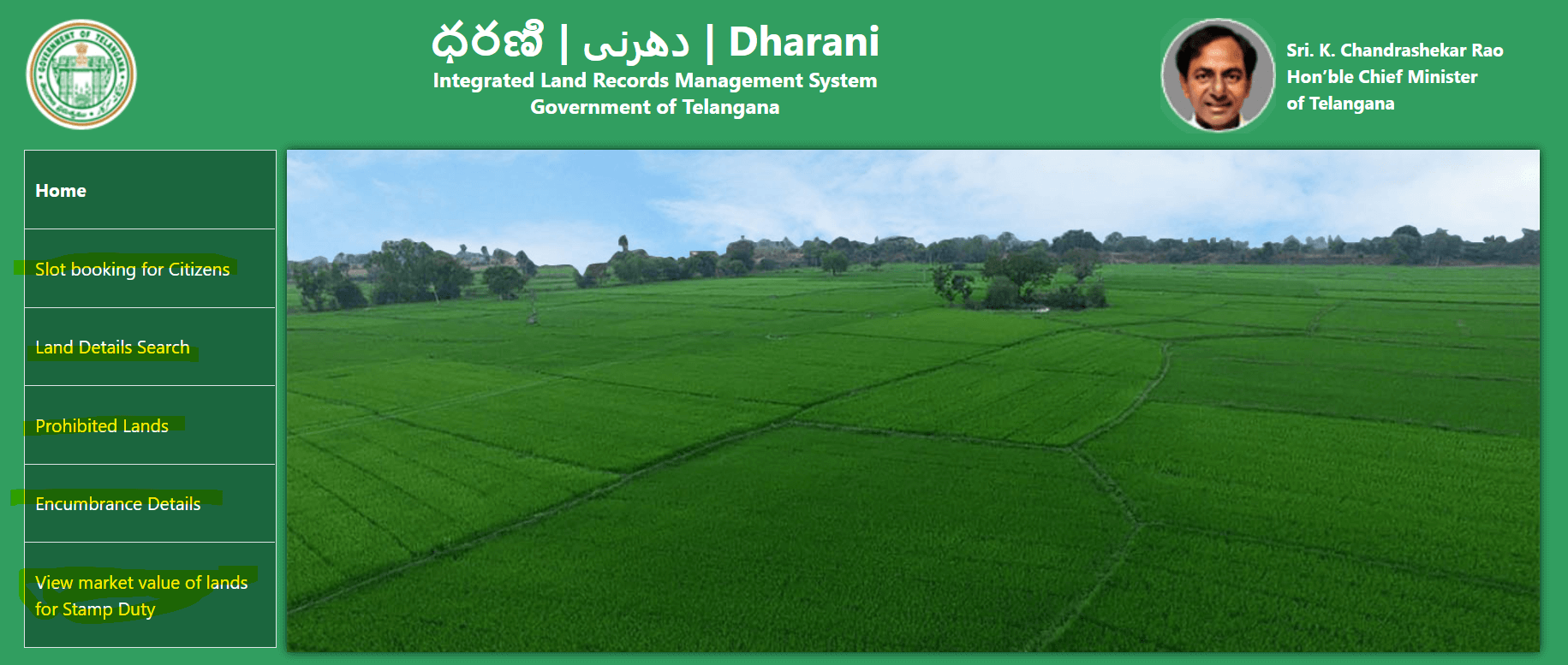 #Step4 – 5 key features will appear on the screen like above
Dharani Telangana Key Features & Updates
In this section we will learn about How to Book Slot in Dharani Land Portal in 2021 with live examples and full details mentioned below
How to Book Slot in Dharani Agriculture Portal in Telangana
#1 SLOT BOOKING FOR CITIZENS
If you want to do any type of revenue transactions, you first need Slot in Telangana Dharani Portal. మనం ఏదయినా భూమి అమ్మాలి  అంటే మనకి ఖచ్చింతగా slot అనేది అవసరం. మనం ఇప్పుడు slot  ఎలా బుక్ చేయాలో తెలుసుకుందాం.
After clicking the slot booking option in Dharani portal, the screen will shows like below mentioned image.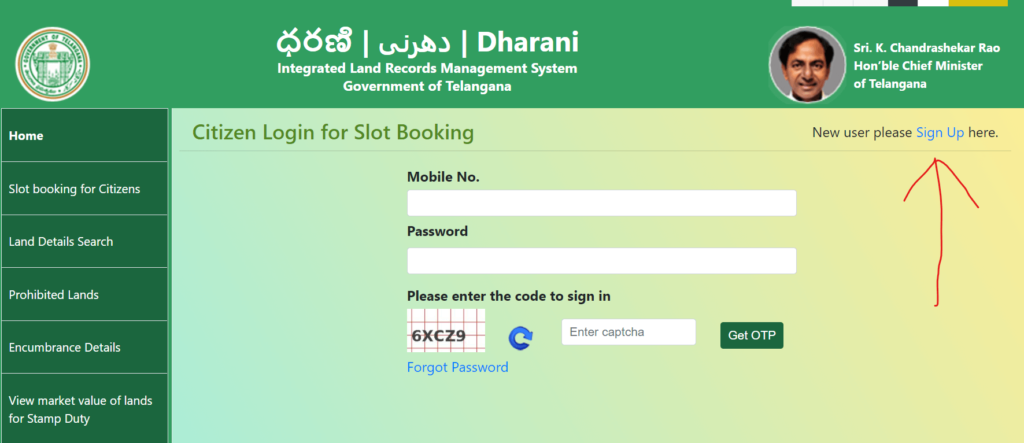 If you are a new user then click on Signup option shown above in the official Dharani portal. After this one signup popup will appear on your screen. Enter your Phone Number, Name and click Get OTP.
(**Note: Please allow location in your browser otherwise it wont send OTP to your mobile number)
After this system generated password successfully sent to your mobile number. Please change your existing password by sign-in into Dharani portal. Password is very case sensitive. All the screenshots are mentioned below.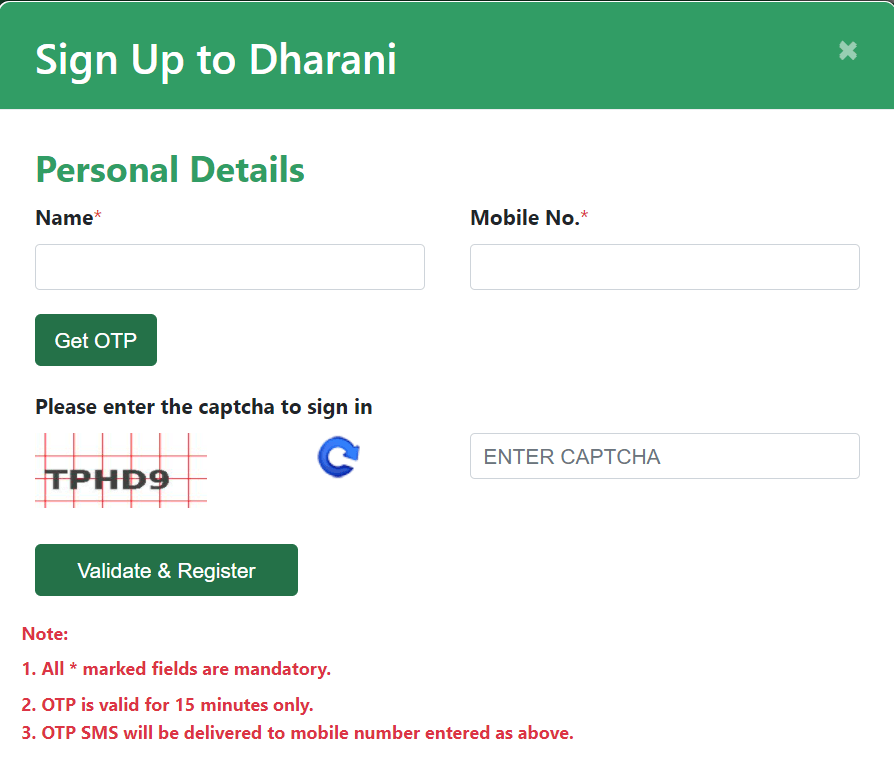 Hey you done!, Successfully generated your slot booking account in Telangana Dharani Portal.
Slot booking for citizens dashboard looks like below, and it contain following options
Application for Registration (Sale & Gift)
Application for Partition
Application for Succession
Slot Booking
Slot Reschedule
Registration Payments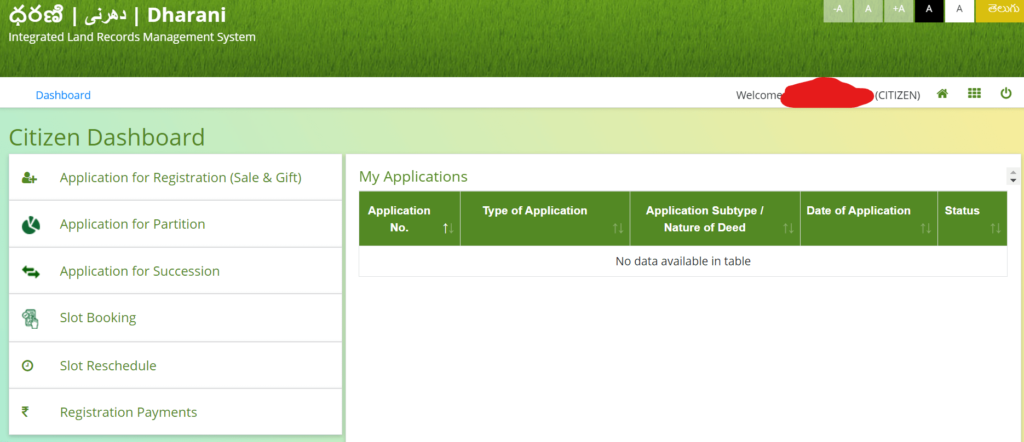 #2 LAND DETAILS SEARCH
#3 PROHIBITED LANDS
#4 ENCUMBRANCE DETAILS
#5 How to Check Market Value of Lands for Stamp Duty
Dharani website for land records holds full and accurate information about land details and ownership people who are living in Telangana state. The main purpose of Dharani website is to maintain revenue department very accurately with the land records.
Frequently Asked Questions on Telangana Dharani Website
How can I get Pattadar Passbook details in Telangana?
How can I check my ROR status?
Key Features Of Pattadar Passbook Scheme
Special Passbook
Printing and Review
Land registration transactions
Eliminating the corruption in Land Registrations
New Policy for Bank Loans
Market value of Lands for Stamp Duty prices
Prohibited Land Survey Numbers
తెలంగాణ ధరణి అందించే పూర్తి వివరాలు & సదుపాయాలు
తెలంగాణ ధరణి వెబ్సైట్ చాలా రకాల సదుపాయాలు అందుబాటులోకి తీసుకువచ్చింది.
ఈ తెలంగాణ ధరణి వెబ్సైట్ లో ముఖ్యమైన మరియు విలువైన సమాచారము సంక్షిప్తం చేయడం జరిగింది.
కొత్తగా జియోగ్రాఫిక్ ఇన్ఫర్మేషన్ సిస్టం ద్వారా నెంబర్లు సర్వే నెంబర్లు ఏఏ ప్రాంతాల్లో ఉన్నాయో కచ్చితంగా తెలుసుకోవడం సులభం అవుతుంది. అన్ని జిల్లాలకు వర్తింపజేయడం ద్వారా భూరికార్డుల ప్రక్షాళన మరియు భూరికార్డుల నిర్వహణ అనేది సులభతరం అవుతుంది అలాగే ప్రజలకు సౌకర్యవంతమైన విధంగా వివరాలను ఆన్లైన్లో పొందుపరచడం ద్వారా ప్రజలు ఎప్పుడు అంటే అప్పుడు వారు తెలుసుకోవాల్సిన వివరాలను ధరణి అనే ఆన్లైన్ పోర్టల్ ద్వారా సంక్షిప్తంగా తెలుసుకోవచ్చు.