Telangana Caste Certificate Online Application Procedure,
Welcome to TelanganaWEB
Today in this article you'll learn about How to Apply Caste/Community Certificate in Telangana State.
Caster/Community Certificate is enabled to decide which caste we actually belong to, and it is only the caste proof for all the government schemes , scholarships, and special vacancies in competitive exams.
How to Apply for Caste Certificate in Telangana
కుల ధ్రువీకరణ సర్టిఫికెట్
In earlier days it was very hard to get these kinds of revenue certificates from the government authorities. But in this modern digital world, it is very easy to get the Caste Certificate from the government by going anywhere. Using mobile also you're eligible to apply for the Telangana caste certificate under some terms and conditions.
ఇప్పుడు మీసేవ యొక్క సిటిజెన్ సర్వీసెస్ తో ఎవరైనా సరే చాల సులువుగా మనకు కావాల్సిన రెవిన్యూ సర్టిఫికెట్స్ ని ఆన్లైన్ లో apply చేసుకోవచ్చు. మీరు మీ యొక్క కంప్యూటర్ లేదా మొబైల్ నుండి కూడా అప్లై చేయవచ్చు. దీనికి సంబంధించిన వివరాలు ఈ ఆర్టికల్ లో చావిడి తెలుసుకోండి.
Required documents for Telangana Caste Certificate
Telangana Caste Certificate Online application requires all the proper information with handy and scanned documents for the uploading process. List of the required documents mentioned below.
Aadhar Card for Current Address or Residential Address Proof
Pass Community Certificate Details
Ration Card / Food Security Card / Voter ID / Aadhar Card
Documents Related to immovable Properties (Optional)
Community Certificate issued to the Family Members (Optional)
Application Form Scanned Copy filled by applicant
SSC Marks Memo
Study Certificates from (1-10)/ Date of Birth Proof from Municipality or Gram Panchayati (this is only for first time users)
Scanned Copy of Passport Size Photo
Application form of Community & DOB Certificate in Telangana
This application form is mandatory to get the required certificate from the revenue department. Earlier we didn't have any citizen services in the meeseva portal, if we want any kind of certificate then we must visit the nearest meeseva center to get the certificates. But now the process is very easy i.e. anyone can apply using their own computer or mobile also.
Application form is available on official meeseva portal mentioned below, where you can download the form and take a print of it. Fill the required details and scan the document as per instructions that TelanganaWEB mentioned at the end of the article.
Click here to download – Telangana Caste Certificate Application Form – Telangana Community & DOB Certificate Application Form
How to Apply for Telangana Caste Certificate Online
Please keep handy the above information,
Process will be done in 3 Different ways,
Using MeeSeva Citizen Services
Using T-Folio application
Visiting the Nearest MeeSeva Center
First 2 procedures don't require any kind of visit to the Meeseva center or MRO office. But 3rd procedure will require to present the nearest MeeSeva center
Application Procedure for Community & DOB Certificate using MeeSeva Citizen Services
This application procedure is very simple, but you need to scan the documents yourself to upload it properly into the portal for verification. Receiving a certificate consists of two procedures one is manual and another one is postal. (will explain at the end of this article).
Requirements before start an application for Telangana Caste Certificate
Need a valid Citizen account in Meeseva Portal
Scan the required documents mentioned above for uploading process
Proper internet connection
Online Payment methods
#Step 1 – Visit the Official MeeSeva Portal
#Step 2 – Click the Login Button
#Step 3 – Choose the Citizen Option from checklist (mentioned below)
#Step 4 – Enter the valid Login ID & Password to Login as a Citizen into the portal.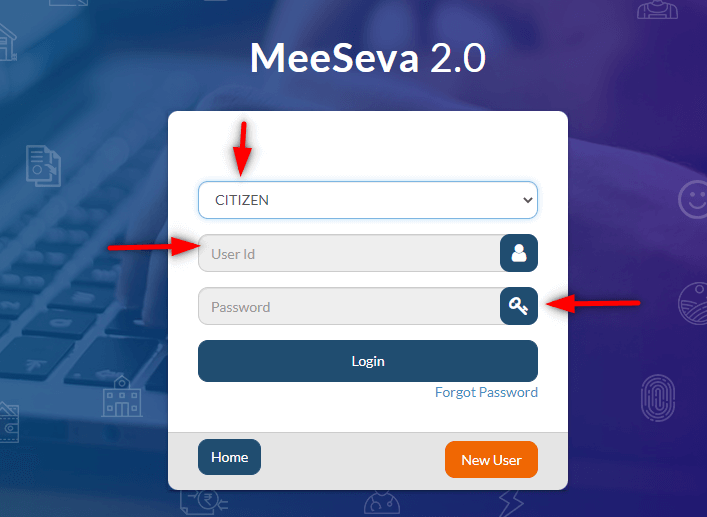 #Step 5 – From Home Page of Telangana MeeSeva (Integrated Service Delivery Gateway) choose the Certificates as mentioned below.


#Step 6 – Select Revenue Services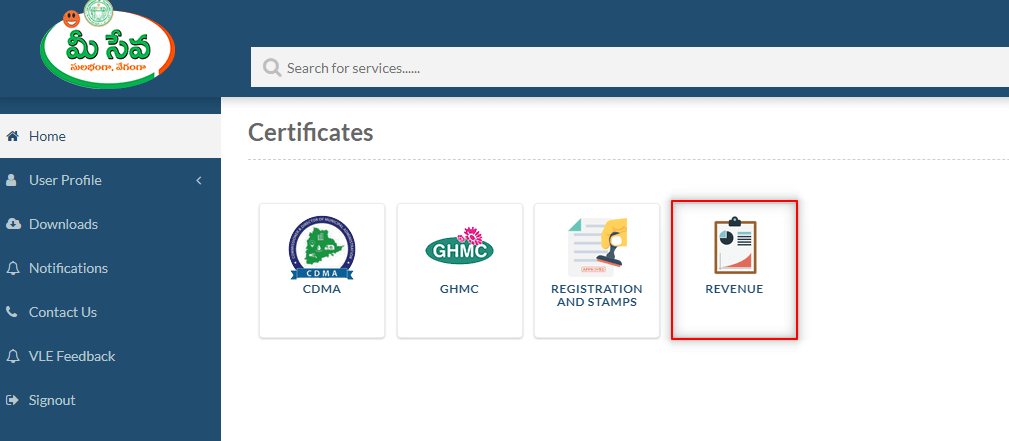 #Step 7 – Select the required Community & DOB Certificate as mentioned below.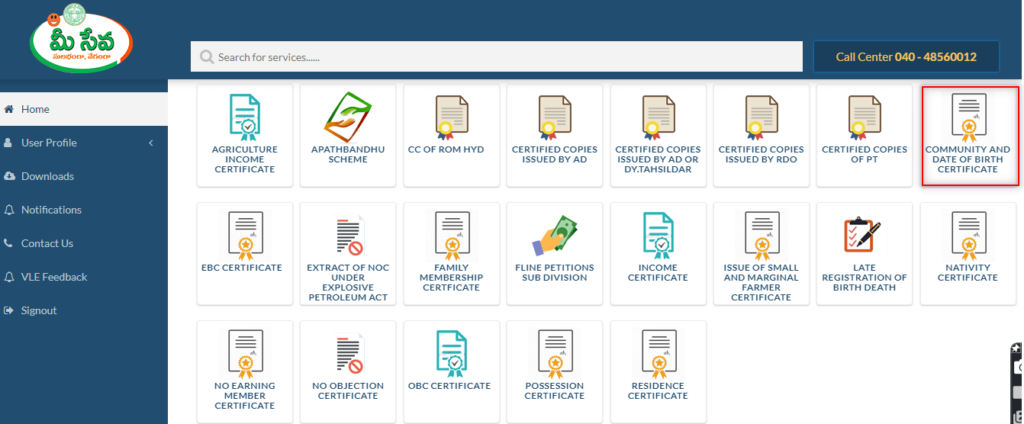 #Step 8 – Fill the appropriate details & Upload the suitable documents


#Step 9 – Choose the Postal or Manual Method. Which means – in the postal method your certificate will be delivered to your address within 7 days. Manual means you must visit the nearest Meeseva portal with your meeseva transaction ID , there you need to take a print of your Telangana Caste Certificate.


If you have any doubts regarding Telangana Caste Certificate Application procedure, you may directly mail us at [email protected] .
Frequently Asked Questions on Community and Date of Birth Certificate application using Meeseva Citizen Service Portal
How many days to get the caste certificate in Telangana State?
What is validity of Caste certificate?
Is caste and OBC certificate both are same?
How do I download my caste certificate?
How can I check my caste certificate online in TS?
How is caste certificate verified?
How to Get MeeSeva Citizen Service Login ID and Password
Related Articles