Village Map with Survey Numbers in Telangana – Telangana is the newly formed state in India. Comprises 4Cr+ population including 8,684 villages. As you people already know about Telangana Dharani – A One Stop Destination for Telangana Land & Revenue records. With respect to this initiation, all the details of survey numbers regarding the land are available on the Dharani portal. In this article, you will get to know about How to check Village Map with Survey Numbers in Telangana. గ్రామ పటం.
In this article, you will learn about Telangana Village Maps with Survey Numbers & how to get and download your survey number details.
cadastral map telangana
How to Download Village Maps with Survey Numbers in Telangana
Almost the digitization of village maps is completed. Very soon officially available for the public domain. The main head of this public domain is CCLA and it is completing under State Remote Sensing Application Center.
Nizam's used this process for so many years back, which they were used the village mapping technique to find all land records precisely and accurately.
Recommendations of CCLA officials, these digitized village maps were soon available after their verification was done. (perhaps a few mandalas & village maps are available in Dharani and CCLA official portals)
Village Map with Survey Numbers in Telangana – The village map in Telangana is also named as Cadastral Map in Telangana. This map will be publicly available in the Telangana Dharani web portal and survey number Tippons are also available in the portal.
Telangana land records with survey numbers
CCLA Telangana Village Maps with Survey Numbers
Initiated by Telangana State Government under KCR
Department – CCLA
Year – 2020
Districts – All the districts in Telangana
Main Agenda – Providing Digital Map of Village or Land in Telangana (accurate Tippons)
https://ccla.telangana.gov.in or Dharani official portal
List of District Wise Telangana Cadastral Maps 2023
Below is the list of Village maps or cadastral maps in Telangana.
mention all districts here
Adilabad (ఆదిలాబాద్ )
Bhadradri Kothagudem (భద్రాద్రి కొత్తగూడెం )
Hyderabad (హైద్రాబాదు)
Jagtial (జగిత్యాల)
Jangaon(జనగాం)
Jayashankar Bhupalpally(జయశంకర్ భూపాలపల్లి)
Jogulamba Gadwal(జోగులాంబ గద్వాల్)
Kamareddy(కామారెడ్డి)
Karimnagar(కరీంనగర్)
Khammam(ఖమ్మం)
Kumuram Bheem(కొమరం భీం)
Mahabubabad(మహబూబాబాద్)
Mancherial(మంచిర్యాల)
Medak(మెదక్)
Medchal(మేడ్చల్)Mulugu(ములుగు)
Nagarkurnool(నాగర్కర్నూల్)
Narayanpet(నారాయణపేట)
Nirmal(నిర్మల్)
Nizamabad(నిజామాబాదు)Peddapalli(పెద్దపల్లి)
Rajanna Sircilla(రాజన్నసిరిసిల్ల )
Rangareddy(రంగారెడ్డి)
Sangareddy(సంగారెడ్డి)
Siddipet(సిద్దిపేట)
Suryapet(సూర్యాపేట)
Vikarabad(వికారాబాద్)
Wanaparthy(వనపర్తి)
Warangal(Rural)(వరంగల్)
Warangal(Urban)
YadadriBhuvanagiri(యాదాద్రిభువనగిరి)
People of Telangana may easily be able to see the land, temples, boundaries with mentioned survey numbers in Village maps. It is very easy to understand by people who don't know the education at all.
Today in this Village Map with Survey Numbers in Telangana article you'll find all the details about Village Maps in Telangana and How to Check Land Details with Survey Numbers.
Dharani Telangana Village Map
How to Get Village Map with Survey Numbers in Telangana
Land Survey Number Search in Telangana is now online process we can survey numbers of anyone with full accurate details and all the information mentioned below. Please read it carefully while search Land Survey Map in Telangana.
Open official website of Telangana Dharani
Go to Know Cadastral Maps Section on the homepage of Dharani
Select the survey number details include district , mandal , and respective village for survey number you want to see the maps
Enter details of Location where to see the maps
For clear understanding, go through the following steps
Step 1 – Go to official Website of Telangana Dharani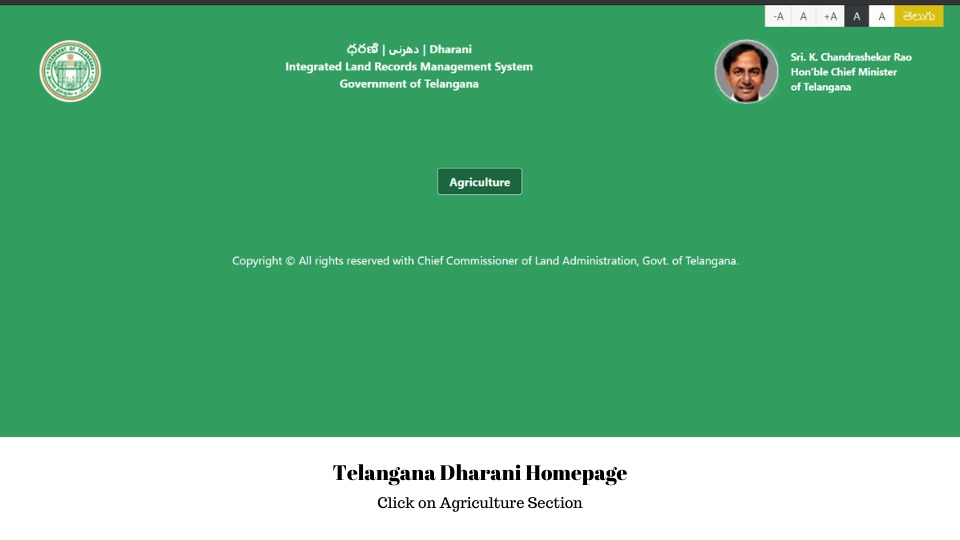 Step 2 – Select Agriculture section on the home screen of Telangana Dharani portal
Step 3 – Select the Cadastral Maps section from the home page – it is coded as IM8 on the homepage shown below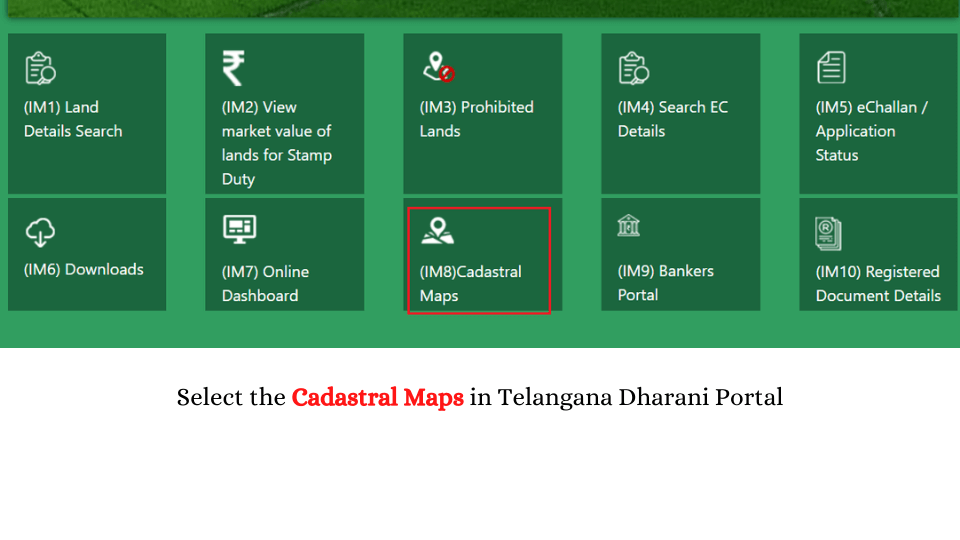 Step 4 – Click on Continue to Proceed forward
Step 5 – Enter survey number and its details for view maps & complete survey number details as shown in below image.
District
Mandal
Village
Survey Number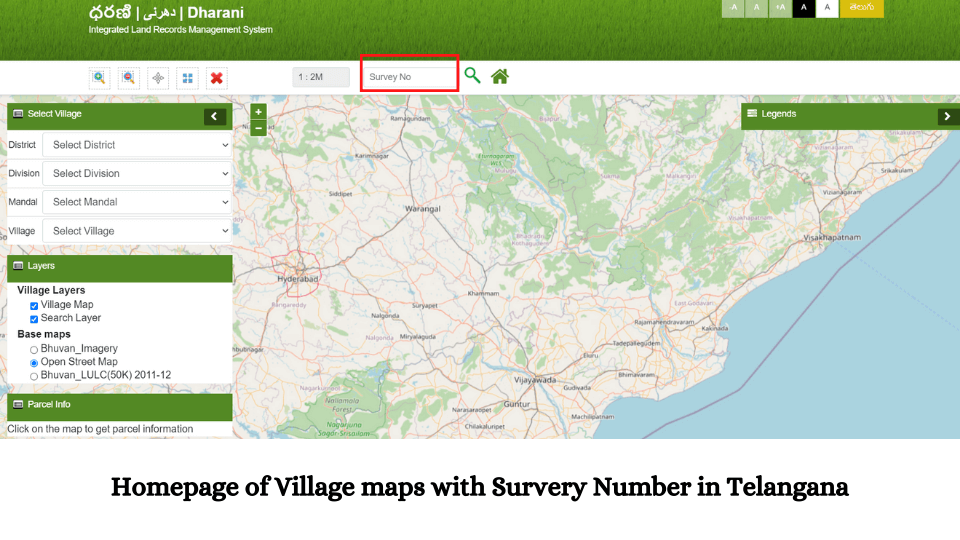 Step 6 – It will show you the village maps with survey number that you've entered. It will also show the Tippon of that survey number.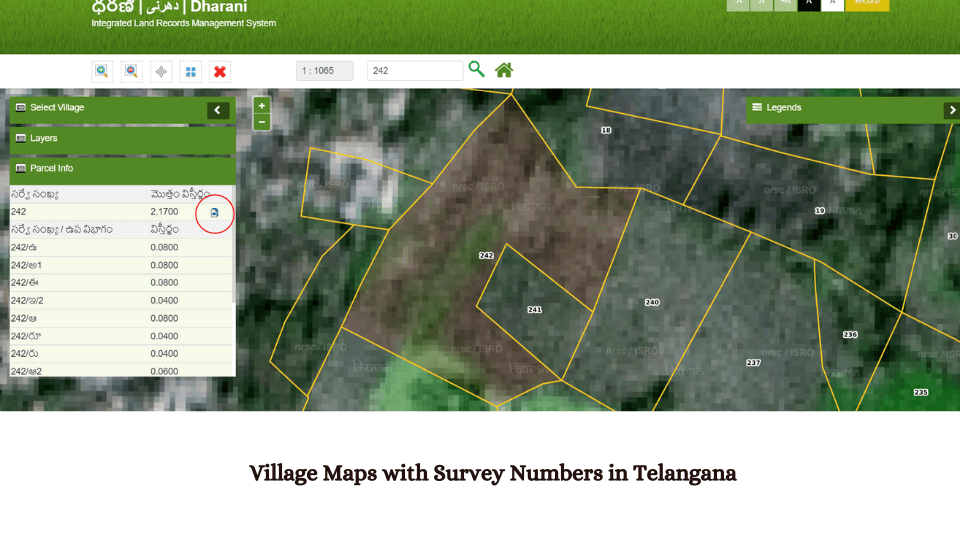 Type of Base Maps available in Telangana Dharani Online Maps Portal
There are total 3 base maps available and Bhuvan maps are provided by Indian Space Research Organization – ISRO
Bhuvan Imagery (provided by ISRO)
Open Street Map (basic map)
Bhuvan_LULC(50K)2011-12
All the map views are shown below in the form of images
What is Tippon in Telangana Revenue Department?
Another important revenue record is Field Measurement Books (FMB), otherwise known as Tippons in Telangana. Tippon consists crucial information about land survey number in the form of plan or sketch. It is used to know the information of Land Survey Map Online
The survey number map s tied in the form books may called Tippons. (as per the official information)
Example of Tippon of one particular survey number as shown in below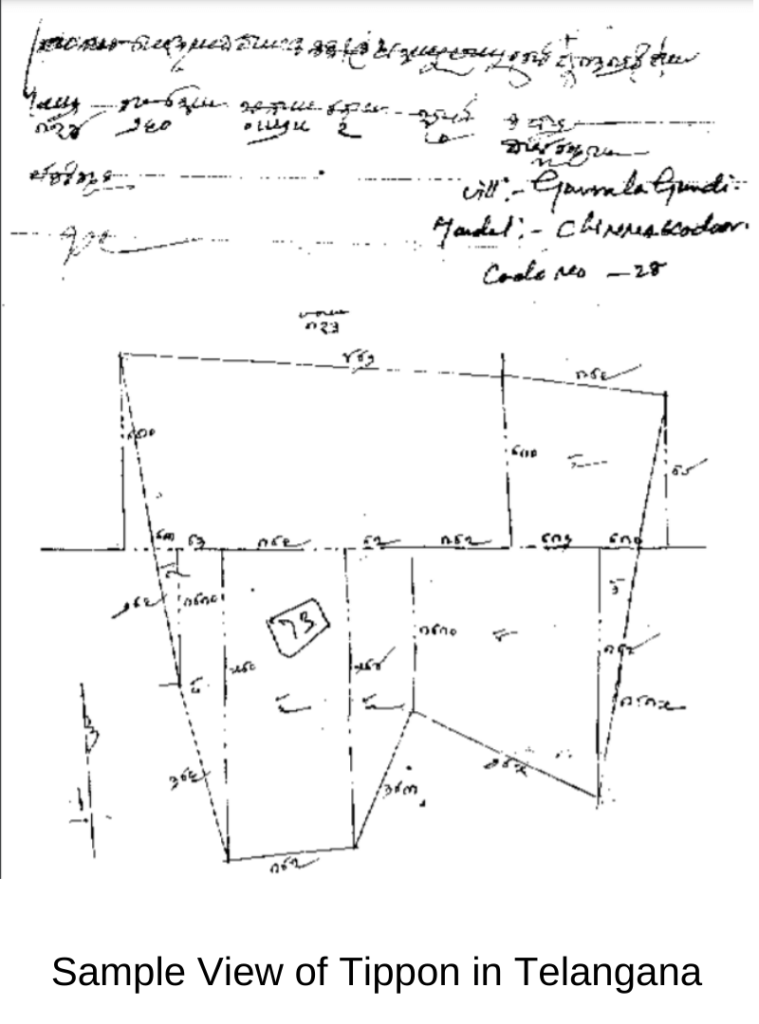 For detailed information about How to check village maps with Survey numbers in Telangana, please watch below mentioned video.
How to Check Land Records Online in Telangana
If you have any questions related to Village Maps in Telangana, please comment below
TelanganaWEB is an Online Education/News Portal – Which Provides all the details about Telangana State News, Tourism, Government Schemes, Education, and many more interesting facts related to Telangana State. Like our Facebook page for more latest information. If you have any queries, you may feel free to reach at [email protected]
Find Unknown place Survey numbers using Google Maps – for more details visit below video
How can I get old land records in Telangana?

You need to apply to meeseva by giving application respective MRO office with proper documents

How can I check my Patta passbook in Telangana?

Using Dharani Portal, you may check your passbook status.
More Interesting Articles