Telangana BC Study Circle is formed to provide valuable coaching to the eligible candidates for the various competitive examinations in Telangana State. BC Study Circle concept was first launched in 1994 at Warangal district, subsequently via various phases there are 11 BC Study circles established across Telangana State. 
Latest News – Online Registration for State Level Examinations. Aspirants can start enrolling from 6th April 2022.
Last date of enrolling –10.00 AM, 16th April 2022. Apply Online
Telangana BC Study Circle Latest Notifications
BC Study Circle – Civils UPSC Prelims and Mains Coaching Notification
Telangana study circle inviting applications from the desired candidates from SC, ST, BC, and OBC candidates of Telangana State to provide integrated guidance coaching for the UPSC Civils Prelims + Mains examination and Personality Test
Opening of Online Application – 10th Nov, 2021
Last date to Apply – 22nd Nov, 2021
Online Entrance Test (Screening Test) – 28th Nov, 2021
Eligibility Criteria for UPSC Free Coaching in TS Study Circles
Required Documents
Graduation Certificate
Caste Certificate
Income Certificate
SSC memo
Nativity Ceritificate
Transfer Certificate
Online Screening Test for UPSC Civils Free Coaching and Syllabus
Study circle is going to conduct online screening test to select the candidates for Free training.
The Study circle entrance test consists of 100 multiple choice questions.
Telangana Study Circle Screening Test Syllabus Which includes
Current Events of National and International importance
History of India and Indian National Movement
World Geography and Indian Geography
Indian Polity and Governance
Economic and Social Development Issues
Environmental Ecology
Climate Change
Bio-diversity
General Science
English
Quantitative Aptitude
Logical Reasoning
Total of 100 questions consists 2 positive marks for correct answer and 1/3rd of -ve mark for wrong answer. So total marks are 200. Duration is about 3 hours.
Name of the Centers to Conduct Online Screening Test for TS BC Study Circle UPSC Prelims and Mains Examination 2022.
Hyderabad
Adilabad
Nizamabad
Nalgonda
Sangareddy
Siddipet
Warangal
Mahabubnagar
Nalgonda
Khammam
Karimnagar
For more details about the notification please feel free to call – 040-24071178
Presently we have 11 Active TS BC Study Circles mentioned below,
Warangal
Study Circle in Hyderabad
Mahabubnagar
Nalgonda
Nizamabad
Karimnagar
Adilabad
Khammam
Sangareddy
Siddipet
Jogulamba Gadwal
The main motto of this study circle is to provide valuable training to backward classes people to get Government jobs. During the training, the government will provide coaching materials, food for free to those who are below the poverty line. Telangana BC Study Circles are maintained by Backward Classes Employability Skill Development
and Training Centre (TSBCESDTC) located at Hyderabad.
The Main Objectives of TS BC Study Circle – Telangana
To provide valuable training on Scientific, Literary and other educational activities among young women and men.
To encourage people to explore knowledge on Management and Administration etc.
Skill development training for various public and private enterprises to excel with Technology.
Co-ordinate, support, and enhance private sector initiatives for skill development through public and private partnership models.
Always do research to initiate valuable campaigns to promote various educational activities in Telangana State.
Various Competitive Exams Training under TS BC Study Circle
Under Telangana State BC Study Circle – Coaching is free for the following exams mentioned below. During the training period we provide Study Materials and Food etc as per availability in Study circles.
UPSC Civil Service Examination
Railway Recruitment Board Exams
Staff Selection Commission Exams
Bank Recruitment Exams
And Other Skill Development Programmes
Eligibility Criteria for BC Study Circle in Telangana State
Parents or Guardian annual income should be less than 2 lakh in urban areas and 1.5 lakh in rural areas.
Aspirants age is between 18-35 years* (this will changed during the notification of admission into TS BC Study Circle)
Must have Backward Classes certificate authorised by Mandal Revenue Officer
Transfer certification from previous educational institution
Documents required for Online TS BC Study Circle application process
Scanned Copy of Date of Birth Certificate (SSC Memo is OK)
Caste Certification issued by MRO
Latest Income Certificate issued by MRO (Every 6 months its validation is over)
Degree Certificate
Provisional Certificate
Transfer Certificate of Last Studied
Disability Certificate (in case of Physically Handicapped Persons)
Original Aadhar Card
Important Instructions to be Considered before applying to TS SC Study Circle
Candidates should opt only for one course otherwise her/his application will be canceled.
All the scanned documents to be uploaded in PDF format and should be less than 1000 KB
Use black or blue pen for signature scanning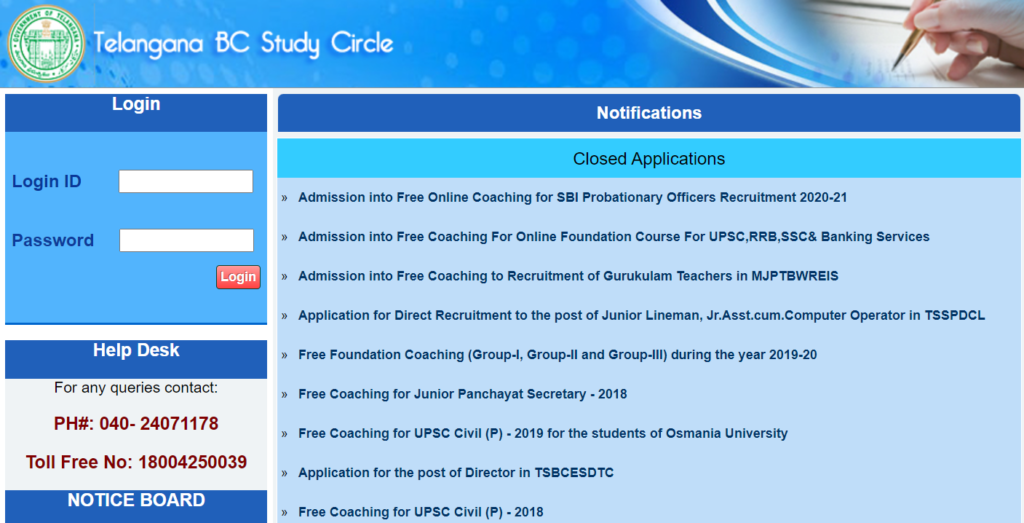 How to Apply for TS BC Study Circle in Telangana
Telangana state BC Study Circle will give notification regarding the admission into various training models depending on current ongoing recruitments in Telangana and India.
Follow the below procedure to get clear knowledge on the application process to join the Telangana BC Study Circle.
Visit there official website for latest notification – TS BC Study Circle Official Website
In the homepage you'll find various ongoing notifications. Select the notification link you apply for
In the next section you have to fill in the details for address, education, caste certificate, mobile number, ts study circle centre name and photo & signature is mandatory for this online ts bc study circle application.
For detailed procedure for Telangana BC Study Circle
Step 1 – Visit the Official Website for Admission into Telangana State BC Study Circle – TS BC Study Circle Official Website
Step 2 – Current/Ongoing admission notification is posted in TS BC Study Circle Homepage dashboard.
Step 3 – Click on ONLINE APPLICATION and Choose your respective district to be apply
Step 4 – Fill with details mentioned in this TS BC Study Circle Post
Step 5 – Upload all the necessary documents as shown in the application form of Telangana BC Study Circle
Step 6 – Upload Photo and Signature & verify your mobile number
Step 7 – Submit & Download TS BC Study Circle application and take a copy of it
Step 8 – Visit the respective BC Study Circle district branch with all the original documents that you've uploaded.
TS BC Study Circle – Homepage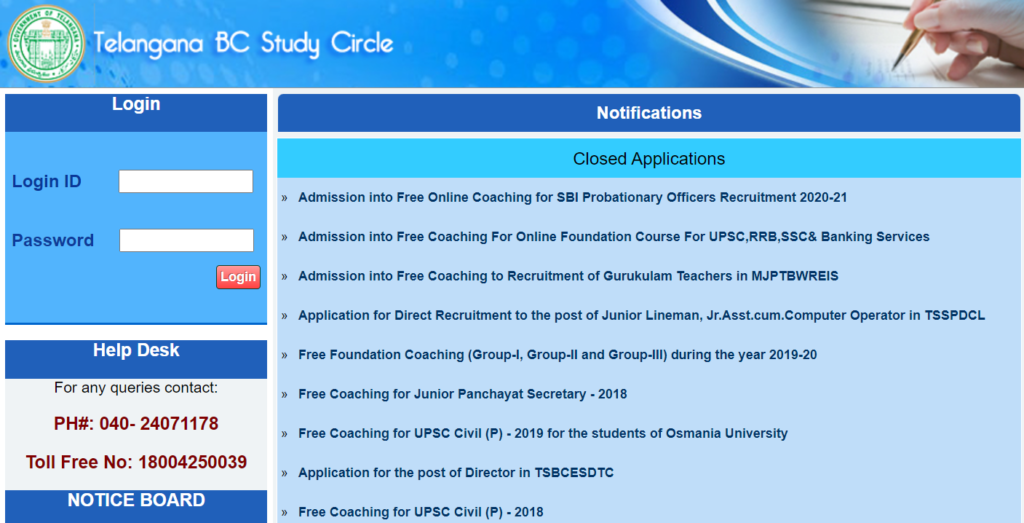 Current notifications are mentioned below